Looking for a web host? You are in for a lot of pain and not the kind of pain that gives you any gain, just annoying pain. And I am not speaking of the whole charade that comes with managing your site and getting in touch with your service provider, but much before that, much before that.
Choosing the right web host might be an absolute horror show especially if you have no clue how the industry works. This happens simply because it's hard to understand how everything works around here since it is so technical.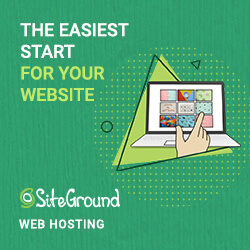 The service itself cannot be exactly rated as the best since there is no best hosting service in the world. It is all about the right fit, between your needs and what the companies offer. While there may be many companies claiming to be the best out there, don't get fooled. You may be better off without them.
Siteground is one of your options and a pretty good one at that. I will tell you why. Whether you are a beginner or a pro, this service may offer you everything you want. While it is not exactly the cheapest option out there, it is well worth it and if the prices alarm you don't worry, they have a 77% discount on all of their offerings right now.
You Get Solid Uptime
The first reason I will give you is performance. SiteGround is one of the best performing web hosts I have seen, if not the best. I have used their starter pack for a year now and the lowest average uptime I have seen is around 99.99%, that's high. To put it into perspective, the industry standard is around 99.94% and that's the standard, not the industry average.
I mean you know a company is sure of their services if they give a guarantee to it and SiteGround is the same. They give you an uptime guarantee of 99.99% and claim to compensate you if it ever dips below that and in this industry, that's a first. I could never check if they backed up the claim since the uptime never dipped that low. That's how good they are!
The Best Customer Support in the Industry

Yeah, you read that perfectly right. You get the best customer support in this industry and the best part you will barely get to use them. If you have been in this business for long, you will know that good customer service is the hardest thing to find in the business. But SiteGround not only provides great customer service but also provide you with enough knowledge right in the beginning so that you don't have to ever call them up in the first place.
I mean, if you read all the documentation they provide, I think it will be hardly necessary to ruffle a rep's feathers when you can do it on your own. Again, that's simply astonishing attention to detail.
You Get Some Free Stuff Which Helps
Before you go into the business of getting yourself a web host, be warned, you will have loads of web hosts claiming to give you a lot of free things. Most of them are useless. They are either limited or simply useless.
SiteGround does things a little differently. You get stuff that is useful for you and you get a lot of it. You get free website migration and free SSL certificates. But the best thing is that you get
 Content Delivery Network or CDN. CDN is a bit of coding magic that allows images and files to be stored on different servers. So, it loads faster. CDN is like a big boost in speed.